Heritage Tours, Vacations, Activity Holidays and Car Hire
---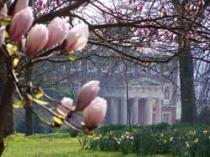 Goodnestone Park Gardens, Canterbury
Soane and Partners - The Art of Travel
Soane & Partners Ltd
64 The Cloisters,
145 Commercial Street
London,
E1 6EB
Tel: +44(0)20 7377 0329
Email: soane@soaneandpartners.co.uk
Web: www.soaneandpartners.co.uk
CULTURAL TOURS
Soane & Partners is a small company specialising in breaks focusing on the arts, architecture, gardens, archaeology and ancient monuments. Our aim is to explore the rich cultural heritage of Britain & Ireland. We hope you'll join us.
OUR TOURS
Our regular day trips from London offer a chance to discover the wealth of interesting houses, churches, museums, galleries and historic sites close to London.
We'll be keeping a close watch on forthcoming exhibitions, and offering tours and walks to complement them.
Our short breaks give you the opportunity to explore further afield. We will be heading for some of the lesser known corners of the British Isles, and seeking out the hidden gems.
We can work with societies and groups to produce tours tailored to your own requirements. We also provide a similar service for tour operators and group leaders from outside the UK.
Our tours are accompanied by guides who have been chosen for their enthusiasm for their subject, and their ability to communicate their knowledge. Their role is to give you an introduction to what you are about to see; we may also include a site tour where appropriate.
Our aim is for an experience of the highest quality. Comfortable transport, fascinating visits, a venue for a delicious lunch, maybe a quick visit to the garden shop. And a chance to meet like-minded people.
---
Activities
| About Argyll | Mountain Goat Tours & Holidays |
Car Hire
Central Rservations | Cornwall Classic Car Hire | Kendall Self Drive Car Hire | Kendall Self Drive Car Hire | Parkers Car and Truck Rental | Poundbury Taxis |
Tours
All Seasons Theme Tours | Brookland Travel | Cats Whiskers Tours | City Cruises | Cotswold Heritage Tours | Eagle Tours
Organised Tours for Aviation Enthusiasts | Exeter - City Wall Trail | Exeter - Woollen Trail | Footscape Walking Holidays and Heritage Tours | Godolphin Tours | Greenways of England | Heritage Touring
SPECIAL INTEREST TOURS | Mary Bailey Consultancy | Oxford Botanica | Quality Time Travel | Red Coat Guided Tours | Rendez-Vous Tourist Guides | Salters Steamers | Scudamore's Punting Comany Cambridge | Soane and Partners - The Art of Travel | Spirit of England Tours | Spright Cars | Stratford Town Walk | Tailor Made Tours | Theatre Breaks | Touring Scotland | Tours and Vacations | Trossachs Garden Tours | Tudor Tours | Wessex Heritage Tours |
Vacations
Caledonian Vacations | Helpful Holidays | Host & Guest Service | Kate Boats | Kate Boats | Luxury Vacations UK | Northumbria Trails | Sell My TimeShare Now | The Independent Traveller | Theatre Breaks |
County Links
England
| Bath | Bedfordshire | Berkshire | Birmingham | Bristol | Buckinghamshire | Cambridge | Cambridgeshire | Cheshire | Cleveland | Cornwall | Cumbria | Derbyshire | Devon | Dorset | Durham County | Essex | Gloucestershire | Hampshire | Herefordshire | Hertfordshire | Isle of Wight | Kent | Lancashire | Leicestershire | Lincolnshire | Liverpool | London | Manchester | Merseyside | Norfolk | Northamptonshire | Northumberland | Nottinghamshire | Oxford | Oxfordshire | Rutland | Shropshire | Somerset | Staffordshire | Suffolk | Surrey | Sussex | Tyne and Wear | Warwickshire | West Midlands | Wiltshire | Worcestershire | York | Yorkshire |
Scotland
Aberdeenshire | Angus | Argyll, Mull, Bute | Ayrshire | Dumfries and Galloway | Dunbartonshire | Dundee | Edinburgh | Falkirk | Fife | Glasgow | Highlands and Islands | Isle of Arran | Kincardineshire | Lanarkshire | Lothian | Moray | Orkney Islands | Perth and Kinross | Renfrewshire | Scottish Borders | Shetland Islands | Stirlingshire |
Wales
Anglesey (Isle of) | Bridgend | Caerphilly | Cardiff | Carmarthenshire | Ceredigion | Conwy | Denbighshire | Flintshire | Gwent | Gwynedd | Merthyr Tydfil | Monmouthshire | Neath Port Talbot | Newport | Pembrokeshire | Powys | Rhondda | Swansea | Torfaen | Vale of Glamorgan | Wrexham |
Northern Ireland
Antrim | Belfast | Down | Fermanagh | Londonderry | Tyrone |
Ireland
Cavan | Clare | Cork | Donegal | Dublin | Galway | Kerry | Kildare | Kilkenny | Leitrim | Limerick | Mayo | Meath | Sligo | Tipperary | Waterford | Westmeath | Wexford | Wicklow |
The Channel Islands and The Isle of Man