Places to Visit in South Kensington, London
---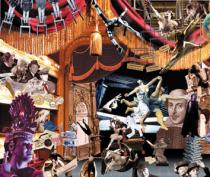 Theatre Museum
V&A Theatre Collections Victoria & Albert Museum Cromwell Road
South Kensington
London
SW7 2RL
Tel: +44 (0)20 7943 4700
Fax: +44 (0)20 7943 4777

Email: click here
Theatre Museum online: information and bookings


The Theatre Collections now operate from two sites.  The Collections and curatorial staff are based at Kensington Olympia; the Directorate, Exhibitions and Education staff are based at the Victoria & Albert Museum in South Kensington. The National Museum of the Performing Arts

At the Museum inside Theatreland Shakespeare jostles with the dramas of kings, actors and lowlife echoing from the 50 or so surrounding stages. Drop in, meet an actor, have a drink with a curator while mixing memories of the past with showbiz gossip of the moment. Daily guided tours, costume workshops, theatrical make-up demonstrations.

Weekend family events, storytelling drama club, creative crafts. Evening and weekend evening talks, events, Theatreland Walks and live Theatrevoice recordings.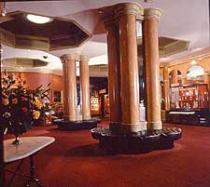 Facilities
• Tea Room
• Private Group Tours
• School Tours Available
Weddings and Conferences
Stage your event in London's historic Covent Garden. Situated in the old Victorian Flower Market, the Museum is a spectacular, dramatic and fascinating venue. The Theatre Museum's sumptuous galleries, foyer displays and studio theatre are the perfect backdrop for any occasion - from formal presentations or launches to cocktail receptions and other special events. Guests can browse the world's most exciting performing arts collection where stage and screen legends are celebrated. We also offers a host of spectacular extras - from tailored performances by professional actors, to a selection of real costumes from West End shows for your guests to dress up in. For extra party magic, just add some of Covent Garden's celebrated street performers. We can arrange for fire eaters, jugglers and conjurors to mingle with and entertain your guests. Our top quality caterers have the expertise to ensure any event goes smoothly and successfully. Email us to discuss how we can help plan your perfect occasion at:
thmevents@vam.ac.uk or telephone +44 (0)20 7943 4744.
In case of alteration, please check prices, opening times and any specific important information before booking or visiting
130 Queensgate London Aparthotel
, South Kensington
Harrington Hall Hotel
, South Kensington
Somerset Queen's Gate Gardens
, South Kensington
Millennium Gloucester Hotel
, Kensington
The Gainsborough
, Earls Court