Places to Visit in Hampstead, London
---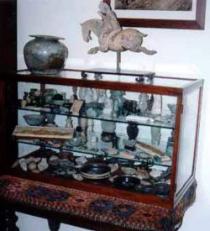 Freud Museum
20 Maresfield Gardens
Hampstead
London
NW3 5SX
Tel: +44(0)20 7435 2002
Freud Museum online: information and bookings


MUSEUMS IN LONDON
The Freud Museum, at 20 Maresfield Gardens in Hampstead, was the home of Sigmund Freud and his family when they escaped Nazi annexation of Austria in 1938. It remained the family home until Anna Freud, the youngest daughter, died in 1982. The centrepiece of the museum is Freud's library and study, preserved just as it was during his lifetime.
It contains Freud's remarkable collection of antiquities: Egyptian; Greek; Roman and Oriental. Almost two thousand items fill cabinets and are ranged on every surface. There are rows of ancient figures on the desk where Freud wrote until the early hours of the morning. The walls are lined with shelves containing Freud's large library of reference books.†
The Freud Museum's central function is to celebrate the life and work of Sigmund and Anna Freud. The museum organises† active programmes of research and publication. It has an education service which organizes seminars, conferences and special visits to the museum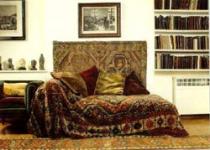 Additional Services
There is a shop well-stocked with books on the life and work of Sigmund Freud and books on contemporary psychoanalysis. Postcards and souvenirs are also available.†
Admission
£5:00 or† £3:00 for concessions; children under 12 years free
Opening Times
The Museum is open from Wednesday to Sunday 12 - 5 p.m.† (Mondays & Tuesdays closed).
Easter Opening Good Friday (6 April) closed
The Museum is open on Saturday (7 April) and Easter Sunday (8 April) from 12 to 5 p.m
Directions
The Freud Museum is located at 20 Maresfield Gardens, NW3,† near Finchley Road Underground Station. Blue signposts mark the way from the station to the museum. Exit the station, cross Finchley Road and turn to the right. After about 100 metres turn to the left into Trinity Walk (TR WK on above map).At the top of Trinity Walk, turn to the left into Maresfield Gardens, and you will reach the Freud Museum after about 150 metres, on the right-hand side
In case of alteration, please check prices, opening times and any specific important information before booking or visiting
Langorf Hotel
, Hampstead
The Hollybush
, NW3
Belsize Park Hotel
, Euston
The Flask
, NW3
Ye Olde White Bear
, NW3