Places to Visit in Kendal, Cumbria
---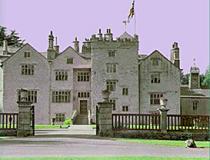 Levens Hall
Kendal
Cumbria
LA8 0PD
Tel: +44(0)1539 560321
Fax: +44(0)1539 560669
Email: click here
Levens Hall online: information and bookings


The first dwelling at Levens was a medieval pele tower, built by the de Redman family of Yealand Redmayne. The Bellingham family, who were wealthy landowners, chose Levens as their main residence in the 1590s and incorporated the fortified tower into a gentlemanís residence. They employed local craftsmen to carve the oak panelling, incorporated elaborate Italian plasterwork, including Elizabeth the Firstís coat of arms and stained glass - all of which can be seen today. The historic house became the property of Colonel James Grahme in 1688 after his career at Court in the service of King James II. He brought with him a young French gardener, Guillaume Beaumont, a pupil of le Notre at Versailles, to plan a fashionable garden at Levens. This family home contains fine furniture, paintings, one of the best examples in Europe of Spanish leather wall coverings, the earliest English patchwork, Wellingtoniana, clocks and miniatures, and has become one of the finest stately homes in south Cumbria.
A grade I listed garden dating from 1694 Ė through a combination of circumstance and love the gardens at Levens Hall have survived in their original design. The topiary is some of the oldest in the world and justifiably famous. The historic topiary garden also incorporates a small orchard of apple trees and medlars, a nuttery and herb garden, a bowling green, a rose garden, herbaceous borders and seasonal bedding.
To celebrate the partnership of Colonel James Grahme and his gardener Guillaume Beaumont, a fountain garden, bordered with pleached limes, was added in 1994, the gardenís 300th anniversary.
Facilities
The Gift Shop at Levens Hall is situated in the beautiful beamed former Potting Shed of the Elizabethan house. The flagged floor and unusual design create a welcoming atmosphere in which to browse amongst our range of unusual and imaginative gifts and books, many of which relate directly to the Hall and the world famous gardens.
Weddings and Conferences
The Bellingham Buttery is open from 10am until 5pm, Sundays to Thursdays, during the season, offering a wide range of delicious home-cooked food, with a daily blackboard menu of hot and cold dishes, puddings and snacks. A vegetarian option is always available.
Produce from the Levens Estate, including venison and pheasant, is served when available, with fruit and vegetables from the garden in season.
Our own Morocco Ale, brewed to an original 18th century recipe, is always on sale. Wherever possible, all ingredients are sourced from local suppliers.
Indoor seating is in the flagged Servantsí Hall and 19th century back kitchen with its original range. Outdoor seating is on the terrace fronting the attractive and colourful formal garden, with views to Whitbarrow and beyond.
In the inner tearoom there is a DVD of the interior of the house playing continuously for the enjoyment of those visitors who are unable to access the house.
Directions
Levens Hall is situated in South Lakeland, 6 miles south of Kendal.
In case of alteration, please check prices, opening times and any specific important information before booking or visiting
Crosthwaite House
, Crosthwaite
Gateway Inn
, Kendal
The Sun Inn
, Crook
Eagle & Child Inn
, Windermere
Burrow Hall Country Guest House
, Kendal