Places to Visit in Peterborough, Cambridgeshire
---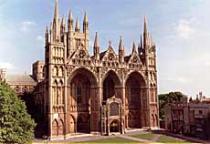 Peterborough Cathedral
Peterborough
Cambridgeshire
PE1 1XS
Tel: +44(0)1733 343342
Fax: +44(0)1733 355316
Email: click here
Peterborough Cathedral online: information and bookings


The Cathedral Church in Peterborough is dedicated to St Peter, St Paul and St Andrew.
A monastic church was founded here by King Peada in 655 AD, destroyed by the Danes in 870, rebuilt as part of a Benedictine Abbey and re-consecrated in 972, burned down in an accidental fire in 1116 and re-built in its present form between 1118 and 1238. The porch was added about 1380, the eastern extension around 1500 and the central tower was re-built in the mid 1300's and again in the 1880's. In 1539 the monastery was closed by Henry VIII, but 18 months later in 1541, the church became the Cathedral of the new Diocese of Peterborough, with the last abbot as the new bishop, and Peterborough became a city.
In the Civil War much damage was done to the Cathedral by Cromwell's troops, and the Lady Chapel, Chapter House and Cloister were destroyed; only fragments of the stained glass windows were saved and these were later pieced together to form the apse windows. The choir stalls, bishop's throne, marble floor and high altar were all created by the Victorian architect Pearson after the tower had been re-built.
In the 1960's new figures were added to the West Front and in the 1970's the spectacular hanging cross was added to the Nave. Since the disastrous fire of November 2001 a massive cleaning and restoration programme has been undertaken, but there is still an expensive and endless task remaining to maintain the building and fulfil its purpose.
The Cathedral is still the seat of the Bishop of Peterborough, as it has been since the Diocese was created in 1541. Worship, enhanced and supported by a long choral tradition, still takes place every day (see service times). The Cathedral is used for many functions including exhibitions, concerts and school outings. There is a permanent exhibition depicting the life of the Cathedral and the daily life of a Benedictine monk. There are also working scale models of how the Cathedral was constructed.
Six highlights to see if your time is limited :
The West Front with its unique English Gothic Portico.
• The 13th century painted nave ceiling.
• The burial places of Katharine of Aragon and of Mary Queen of Scots.
• The fan vaulting of the New Building Ceiling.
• The Hedda stone (8th Century Saxon carving from the original church).
•St Oswald's chapel with its 12th century watchtower.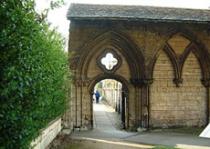 Facilities
Historic House, Gardens, Car Park, Private Group Tours, School Tours Available,
Opening Times
General visiting ends at 5 pm on Monday to Friday (Evensong at 5:30 pm) and at 3:00 pm on Saturday and Sunday (Evensong at 3:30 pm), but visitors are most welcome to remain and join us for worship.
In case of alteration, please check prices, opening times and any specific important information before booking or visiting
Woodmans Cottage
, Gorefield
Agden Hill Farm
, St neots
The Wishing Well Inn
, Bourne
Aaron Park Hotel
, Peterborough
The Chequers
, Gedney Dyke