Places to Visit in Cheltenham, Gloucestershire
---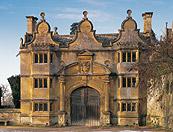 Stanway House &
Water Garden
Stanway
Cheltenham
Gloucestershire
GL54 5PQ
Tel: +44 (0)1386 584528
Email: click here
Stanway House &
Water Garden online: information and bookings


Stanway House is noted for its mellow, peaceful atmosphere, created by its age (it was finished in the calm decade before the Civil War), by its stone (a delicious Cotswold stone known as Guiting Yellow), by its architecture (Jacobean mullions and gables and Cotswold slates), by its furniture (most of which, like the Charles I working shuffleboard table, has been in the house since it was made), and by its setting (sheltered in a hollow at the foot of the Cotswold escarpment, close to the church, Gatehouse, Tithe Barn and cottages and surrounded by an enchanting garden and ancient parkland). The charming interior gives every appearance of being lived in, and in no sense resembles a museum.
THE FOUNTAIN
The glory of the Stanway watergarden is the single-jet fountain in the Canal, opened on 5th June 2004. Originally suggested by Paul Edwards, the landscape architect, and engineered by David Bracey of The Fountain Workshop Limited, the fountain rises magnificently to over 300 feet, making it the tallest fountain in Britain (seconded by Witley Court at 121 feet), the tallest gravity fountain in the world (seconded by the Fountain of Fame at La Granja de San Ildefonso, Segovia, Spain at 154 feet), and the second tallest fountain in Europe, after the 400-foot-high turbine-driven fountain in Lake Geneva. The fountain has a 2-inch bronze nozzle and is driven from an 100,000-gallon reservoir, 580 feet above the Canal, via a 12-inch diameter medium-density polyethylene pipe 2 kilometres long.
THE WATER GARDEN
The Stanway Watergarden, one of the finest in England, was created in the 1720s for John Tracy, probably by Charles Bridgeman, gardener to Lord Cobham at Stowe, Buckinghamshire from 1719 and Royal Gardener from 1727, who invented the English style of gardening, which superceded the Franco-Dutch style.
Typically Bridgemanic is the Canal, a magnificent formal sheet of water, situated unusually on a terrace 25 feet above the house, and the Cascade (the largest in Britain, partially restored), fed by water flowing under the Pyramid from the Pyramid Pond.The Tithe Barn Pond adds to the watery feel of the garden, which also includes fine specimen trees, broad terraced lawns and herbaceous borders.
STANWAY WATERMILL
The Estate watermill has now been restored to full working condition. Powered by a 24ft diameter waterwheel, it is producing wholemeal and sifted flour from wheat grown on Stanway Estate.The Mill, situated 100 yards from Stanway House, is open to view at the same opening times as the house in June, July and August. A combined ticket is available for the Mill, House, Fountain and Gardens.
The Mill is also open most Thursdays throughout the year.
Private tours can be at any time of year. School visitsare welcome.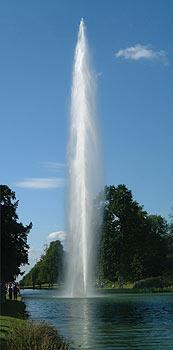 In case of alteration, please check prices, opening times and any specific important information before booking or visiting
Nothfield Guest House
, Northleach
The Puesdown Inn
, Northleach
Wyck Hill House Hotel
, Cheltenham
The Mill Inn
, Withington
Guiting Guest House
, Guiting Power