Places to Visit in Hailsham, Sussex
---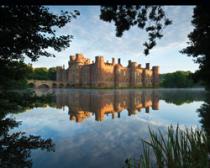 Herstmonceux Castle
Gardens and Grounds
Bader International Study Centre
Queen's University (Canada), Herstmonceux Castle
Hailsham
Sussex
BN27 1RN
Tel: +44 (0)1323 833816
Map
Email: click here
Herstmonceux Castle
Gardens and Grounds online: information and bookings


Herstmonceux is renowned for its magnificent moated castle, set in beautiful parkland and superb Elizabethan gardens. Built originally as a country home in the mid- 15th - century, Herstmonceux Castle embodies the history of Medieval England and the romance of Renaissance Europe.
Set among carefully maintained Elizabethan gardens and parkland, your enchantment begins with your first sight of the castle as it breaks into view.
Visitors are invited to walk around our beautiful Elizabethan walled gardens and the many woodland trails, leading to delightful discoveries such as our Rhododendron Gardens, Rose Garden and Herb Garden.
Take a slow stroll past the lily covered lakes to the 1930's folly and admire the sheer magnificence of the castle.
Herstmonceux was a significant place long before the Castle was built. There is evidence of Roman remains, and in the 12th century a saxon lady, Idonea de Herst married a Norman nobleman, Ingelram de Monceux, to give the place it's name. The name of the owners changed through marriage to Fiennes, and the family increased in wealth and power. James Fiennes distinguished himself fighting for King Henry V at the Battle of Agincourt and later became sheriff of Surrey and Sussex.
It was his elder brother, Sir Roger Fiennes, Treasurer of the Household of Henry V1, who started building the castle in 1441. This is one of the first major brick buildings (today it is the oldest brick building of any note still standing in England) and was years ahead of it's time in other respects, with concentration more on grandeur and comfort than on defence.
The family fortunes are interesting and varied,but by 1700 the last Lord Dacre, Earl of Sussex, was forced to sell Herstmonceux Castle. By the end of this century the owner, Robert Hare had demolished most of it and used the bricks to refashion Herstmonceux Place, further up the hill.
It had deteriorated into a ruin until 1911 when it was bought by Lt. col. Claude Lowther who used Local craftsman to carry out the building work, and by 1912 most of the South front was rebuilt.
Col Lowther was responsible for much of the present design and for installing a number of pieces of fine woodwork and panelling purchased from other great historic houses in England.
After his death in 1929, Sir Paul Latham contributed very greatly to the construction of the castle both internally and externally. In 1946 he sold it to the Admiralty who bought the estate for the Royal Greenwich Observatory, and it became an important scientific institution for the next 40 years.
In 1993 Herstmonceux Castle was acquired by Queen's University of Canada through the generosity of Drs Alfred and Isabel Bader, and is now an International Study Centre attracting students from around the world.
It was during a visit to their Sussex home that Drs Alfred and Isabel Bader chanced on an advertisement offering Herstmonceux Castle for sale, and their vision and support for the potential of the Castle taking on a new guise as an International Study Centre, bringing students from all over the world to study in the beauty and tranquillity of East Sussex countryside.
Also visitors are encouraged to take part in a guided tour of the interior of the castle to gain an insight into what life was like in times gone by and to become familiar with the stories and rumours which have circulated over the years, including those of smugglers and our resident ghosts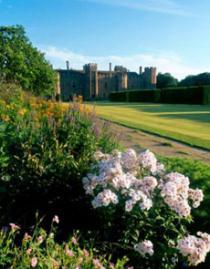 Facilities
Gardens, Tearoom, Visitors centre, Nature Trail, children's play area, disabled toilets and science centre (separate entry fees for science centre).
Group bookings available for parties over 15.

Restaurant
Chestnuts Tearoom - Enjoy a delicious cream tea in the castle Tearoom. For those who wish to know more about the history of the castle, there is a visitors centre displaying various artefacts, photographs and information.
Weddings and Conferences
WEDDINGS AND CORPORATE EVENTS IN HAILSHAM, SUSSEX
Herstmonceux castle also provides excellent facilities for conferences, weddings and functions. The combination of sophisticated atmosphere and personalised service make Herstmonceux Castle ideal for business or academic conferences.
The estate's relaxed atmosphere, away from day to day business pressure, provides participants with an exceptional environment for learning and personal growth, this combined with excellent working conditions, modern AV equipment and a friendly, efficient service make Herstmonceux Castle one of the most popular conference locations in the area.
Herstmonceux Castle is an established and extremely popular wedding venue, with a choice of four rooms in which ceremonies can be performed.
In case of alteration, please check prices, opening times and any specific important information before booking or visiting
Corn Exchange
, Hailsham
Boship Farm Hotel
, Hailsham
The Plough
, Upper Dicker
Merrie Harriers
, Cowbeech
The Lamb Inn
, Wartling