Places to Visit in Skipton, Yorkshire
---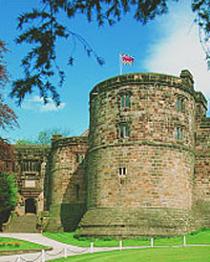 Skipton Castle
Skipton
Yorkshire
BD23 1AW
Tel: +44(0)1756 792442
Map
Email: click here
Skipton Castle online: information and bookings


On a December day in 1645, a column of soldiers, weary, tattered but with colours flying and trumpets sounding, marched out of the Castle gate and away down the wide High Street, surrendering (with honour) after a three-year siege. Skipton Castle had been the King's last stronghold in the North of England. For five centuries the Lords and Castle of Skipton had played major roles on the stage of English history : now Cromwell decreed that the Castle should be destroyed. But it was saved by the determination of its owner, Lady Anne Clifford (the last of her line); today it stands, fully roofed, guarding still the busy market town beneath its walls.
Explore the Castle from dungeon to Watch Tower : see how each age left its mark. Look out through the Norman arrow-slits which 'covered' the main entrance; visit the 'lost' 13th century chapel – fully revealed only recently – used as stabling for centuries; pause
in the beautiful Conduit Court, with its apartments built in Henry VII's time by the 10th Lord; his father and grandfather had died in the brutal civil 'Wars of the Roses'. Here is one of the most complete medieval castles to survive in England.
Savour Skipton's peaceful environment, the smooth lawns, the fine views; in the Tea Room, sample traditional fare; browse in the Shop, with its noted books section and wide range of other gifts for all ages.
In the Parish Church, close to the Castle walls, the tombs of several Lords of Skipton can be seen; that of George Clifford is especially splendid;
he was the 15th Lord, the 3rd Earl of Cumberland, 'Queen's Champion' to Elizabeth I, and an Admiral against the Armada.
In the bustling High Street nearby, expect to see market stalls – Skipton has four market days each week – and in and around the town can
be found a wide variety of shops, restaurants and accommodation. The Leeds & Liverpool Canal, busy with leisure boats, gives access to delightful countryside; and the famous 'Settle & Carlisle' railway line provides one of England's most dramatic journeys.
Skipton's position at the southern gateway to the Yorkshire Dales (which was the strategic reason for the Castle's existence in the Middle Ages) today draws many visitors intent on exploring the National Park –
a region of unspoilt stone-built villages and farms, clear rivers, spacious uplands and wooded valleys.
Town, countryside, Castle – how much there is to enjoy at Skipton!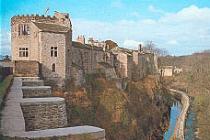 Facilities
• Historic House
• Gardens
• Tea Room
• Picnic Area
• Car Park
• Private Tours available
• School Tours
Admission
Adults £8.10
Senior Citizens £7.00
Children (5-17) £5.10
Children (under 5) Free
Family (2 adults,
3 under 18s) £25.90
Opening Times
Open every day from 10am (Sundays 11am)
Last admission 5pm
(Oct-Mar 4pm)
Closed 23-25 December
Directions
On Skipton's High Street. Coach & Car parking nearby- BD23 1UA
In case of alteration, please check prices, opening times and any specific important information before booking or visiting
Fox And Hounds Inn
, Starbotton
Red Lion Hotel
, Skipton
The Buck Inn
, Buckden
Clay Hall
, Skipton
The White Lion Inn
, Cray