Places to Visit in Basing, Hampshire
---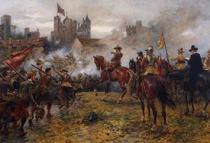 Basing House
Redbridge Lane
Basing
Hampshire
RG24 7HB
Tel: +44(0)1256 467294
Basing House online: information and bookings


Basing House was built in 1535 as a new palace for Sir William Paulet, the first Marquis of Winchester and Treasurer to Edward VI, Mary I and Elizabeth I. It had 380 rooms, was 5 storeys high and was the largest private house in the country.
When the English Civil War broke out in 1642, England was divided between the Royalist, and often Catholic, supporters of King Charles I and those, mainly Protestants, who favoured a more powerful Parliament. At this time Basing House was owned by John Paulet, the fifth Marquis of Winchester. He lived up to his family motto "Aymez Loyaulte" - Love Loyalty - and supported the king.
Basing House was attacked by Parliamentary troops on three occasions. The final assault came in August 1645 when Colonel John Dalbier, with 800 men, took up position around the walls. During the siege, Dalbier even tried an early form of poison gas, burning wet straw mixed with sulphur and arsenic upwind of the house. The garrison held out, despite further reinforcements to the attacking force, until Oliver Cromwell himself arrived with heavy artillery including a cannon which is thought to have fired shot weighing between 48 and 63 pounds. By 13th October 1645 the walls of the house had been breached.
The final storming of the defences was violent, and between forty and a hundred people were killed. Parliamentary troops were given leave to pillage the house, and an estimated £200,000 (about £10 million today) worth of goods were carried off. A fire finally destroyed the building.
Parliament ordered the complete demolition of what remained, from which the villagers of Basing were allowed to remove building materials for their own use. John Paulet had his estates confiscated, and was sent to the Tower of London on a charge of high treason, while his sons were taken away to be brought up as Protestants. The charges against Paulet were later dropped, and the site of Basing House returned to him at the Restoration by King Charles II.
Some years later, and after John Paulet's death, his son Charles Paulet became Marquis of Winchester and was instrumental in the 'Glorious Revolution' when the protestant William of Orange was crowned William III. Charles was rewarded with the Dukedom of Bolton and numerous estates, and used his new wealth to pull down what was left of Basing House and to build a new house at Hackwood.
Facilities
School Tours Available,
In case of alteration, please check prices, opening times and any specific important information before booking or visiting
Hampshire Centrecourt
, Basingstoke
Angel Farm
, Bracknell
The Millstone
, Old Basing