Places to Visit in Romsey, Hampshire
---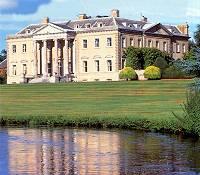 Broadlands
Romsey
Hampshire
SO51 9ZD
Tel: + 44 (01794) 505010
Fax: + 44 (01794) 518605

Email: click here
Broadlands online: information and bookings


Broadlands has been a part of English history for centuries ... home to statesmen and men of action ... host to royalty and the brilliant, powerful and celebrated of their time.
Broadlands stands in spacious parkland in a landscape which is typically English. The River Test, one of the finest trout and salmon rivers in Europe, flows for over four miles through the Estate. However, few appreciate that the character of the English countryside is really shaped by man. "Capability" Brown's dictum was that "Nature abhors a straight line". His skill in applying it can be seen in the views of the River Test and the winding paths and open "rides" between carefully placed trees: a "natural landscape" influenced by the paintings of Claude and Salvator Rosa.
Today, Broadlands remains one of England's most delightful country homes, a gem of mid-Georgian beauty. To visit it is to recapture the peace and charm that led Lord Palmerston to write in 1730 "... this place all together pleases me above any place I know". The exterior is complemented by its elegant interior. Visitors to the house can see many of the original paintings, furniture, porcelain and magnificent sculpture collected by the second Viscount Palmerston.
Home also to the late Lord Mountbatten, visitors can relive his life and times in the Mountbatten Exhibition and gain an overall picture of the man who was a sailor, military commander, statesman and diplomat in the spectacular Mountbatten audio-visual presentation.
The 18th century ornamental dairy, now the Visitors Reception Centre and Gift Shop, stands at the end of a shady walk by the waterside, surrounded by trees drooping their boughs to the stream. Visitors can picnic on the lawns or stop to take a light lunch or afternoon tea in the delightful Courtyard tea rooms.
Facilities
Historic House, Gardens, Picnic Area, Car Park, Private Group Tours, School Tours Available,
Additional Services

Admission
An all-inclusive ticket is issued covering the guided tour of the House and the Mountbatten Exhibition
Adults: £8.00Children(12 - 14):  £4.00
Children under 12 are free with an accompanying adult.
Groups of 15 or more visitors are charged at the concessionary rate
Opening Times
We will re-open on Wednesday the 28th June 2006 and close on Friday the 01st September 2006
Open Monday to Friday afternoons only from 1.00 pm until 5.30 pm, with the last admission being 4.00 pm. We will be open on the August Bank Holiday Monday
The visit to Broadlands House is by guided tour only. This arrangement was introduced a few years ago to provide a more informative and personal tour of the House and has been a great success with our visitors.
In case of alteration, please check prices, opening times and any specific important information before booking or visiting
Corus hotel Romsey
, Ampfield
Star Inn
, East Tythyerley
Greenvale Farm
, Romsey
Shoe Inn
, Plaitford
Country Accommodation Guest House
, Romsey