Haunted Places in Ely, Cambridgeshire
---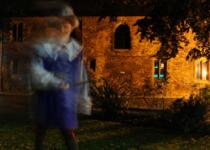 ELY'S Haunted Tales
Ely
Cambridgeshire
Tel: 01353 662062
ELY'S Haunted Tales online: information and bookings


On the surface Ely looks a very peaceful and tranquil place with quaint teashops, a thriving market and delightful Archicture so it would seem the last place to send chills down your spine. But behind doorways and passages throughout the city there are stories of murder, intrigue and mystery, which told, cannot be explained as a mere trick of the light making Ely the most haunted small city in Europe.
To experience more of Ely's haunted past (if you dare) then join us for one of our immensely popular ghost tours or walks around the city. The tours begin at Oliver Cromwell's House where children's voices to can be heard laughing and there is a blue lady who wanders down the corridors late at night and then of course there is the Lord Protector himself in his bedroom.
As the tours takes you through the dimly lit streets of Ely where you will encounter ghostly characters as the body snatcher in the grave yard, the Sergeant Major, the pale nurse from the old militia hospital, ghosts from two famous murders, a medieval lady, a faceless monk and maybe Black Shuck – a large one eyed black dog dating from Saxon times.
These ghost are just a few along with the poltergeists and sprits that are heard but not seen.
For further information please contact Ely Tourist Information Centre on 01353 662062 or www.visitely.org.uk
In case of alteration, please check prices, opening times and any specific important information before booking or visiting