Museums and Art Galleries in Berkeley, Gloucestershire
---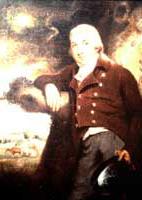 Edward Jenner Museum
Berkeley
Gloucestershire
GL13 9BN
Tel: 01453 810631
Fax: 01453 811 690
Email: click here
Edward Jenner Museum online: information and bookings


Edward Jenner was born in Berkeley, Gloucestershire on 17th May 1749. He was the eighth of the nine children born to the vicar of Berkeley, the Reverend Stephen Jenner, and his wife Sarah. Unfortunately, by the time Edward was five years old both of his parents had died and he was left in the care of his older sister, Mary, who was soon to marry the incoming vicar, the Reverend G. C. Black.
Edward grew up with a great knowledge and interest in country matters: he collected birds' eggs and visited the shores of the River Severn (only a mile to the west of Berkeley) to collect fossils and anything of interest that might have been washed ashore.
Education and Medical Training
He went to school in Wotton-under-Edge and Cirencester. During this time he was inoculated for smallpox, which had a lifelong effect upon his general health. At the age of 14 he was apprenticed for seven years to Mr Daniel Ludlow, a surgeon of Chipping Sodbury, where he gained most of the experience needed to become a surgeon himself.
In 1770 he moved to St. George's Hospital in London, to complete his medical training under the great surgeon and experimentalist John Hunter. Hunter quickly recognised Edward's abilities at dissection and investigation, as well as his understanding of plant and animal anatomy. The two men were to remain lifelong friends and correspondents.
In 1772 at the age of 23 Edward Jenner returned to Berkeley and established himself as the local practitioner and surgeon. Although in later years he established medical practices in London and Cheltenham, Jenner remained essentially a resident of Berkeley.
Tartar Emetic and Heart Disease
Edward Jenner is remembered today as the pioneer of smallpox vaccination and father of immunology. However he was also a keen researcher in other fields of medicine and surgery. Early in his career (1783) he developed methods for purifying Tartar Emetic. This rather poisonous chemical was widely used to treat parasitic diseases. Jenner's improvements made the drug more reliable and less toxic in its effects.
Dr Jenner even pioneered research into heart disease. Chest pain (angina) was a common problem, but its cause was not understood. Jenner performed post-mortem examinations on the bodies of patients who had died of angina. He observed that the large arteries around the heart were often lined with fatty and chalky deposits. In 1772 he speculated that this was probably linked with the angina. He also correctly associated unnatural changes to the heart valves (mitral stenosis) with a condition that is now known as rheumatic heart disease.
Medical Societies
The great strides in the sciences during Jenner's time were spurred on by the discussion and publication that took place in learned societies at national and local level. Edward Jenner took part in two local medical discussion groups. One met at the Fleece Inn at Rodborough (near Stroud) from 1770; the other used the Ship Inn at Alveston (just north of Bristol) from 1780.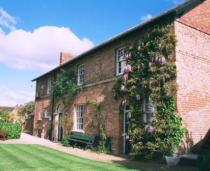 Facilities
Car Park,
Weddings and Conferences
The Old Cyder House Conference and Education Centre is set in the grounds of Edward Jenner's former home, The Chantry (now The Edward Jenner Museum) in Berkeley. It contains two function rooms, a smaller meeting/breakout room, and cloakroom facilities. It is located just off the A38, within easy reach of the M4 and M5 motorways.
The first floor meeting room is 8.5 x 5.5 metres (28 x 18 feet) with beamed ceilings, seating up to 45. It is equipped for presentations with a digital slide projector, WiFi broadband and flip charts. Photocopying is offered at an additional charge. The room can also be laid out for boardroom-style meetings for up to 18 delegates.
The ground floor meeting and exhibition room is also 8.5 x 5.5 metres (28 x 18 feet). It can also be laid out chairs and coffee tables. Buffet meals for up to 40 people can be served here.
The small first floor meeting room is suitable for up to a dozen people. It can be equipped with DVD/TV and flip chart/whiteboard.
Directions
The Museum and Conference Centre are 1½ miles west of A38 midway between Bristol and Gloucester: 3½ miles from the M5 and 8 miles from the M4. Heathrow is 1 ½ hours drive away. It is central to Cheltenham, Gloucester, Cirencester, Tetbury, Bath, Bristol, Chepstow and Monmouth, the Severn Bridge being just 10 miles away.
In case of alteration, please check prices, opening times and any specific important information before booking or visiting
The Malt House
, Berkeley
Newport Towers Hotel
, Newport