Churches in Maidstone, Kent
---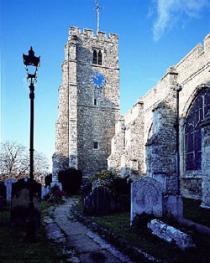 All Saints' Church
Mill Street
Maidstone
Kent
Tel: 01622 843298
All Saints' Church online: information and bookings


Built by Archbishop Courtenay in 1395, All Saints is the Parish Church for Maidstone, and has been described as the 'Grandest Perpendicular Church in England'.
Set into the wall by the south-west door is a 17th Century memorial to local man Laurence Washington. If you look at the family arms on the memorial you can see where his descendent George Washington found his inspiration for the American Stars and Stripes'.
In the Misericord there are 28 choir stalls. The seats are hinged so that when they are lifted up the lip on the front edge forms a seat on which the priest could lean when required to stand.
There are fine examples of Medieval carving underneath the seats including the a caricature of the college cook!.
The church did possess a spire rising to a height of 172 feet but this was burned down after being struck by lighting in 1730, the men watched helplessly and in frustration until the fire came to within reach of their hand-pumps.
In the church cemetery there is a table monument of William Shipley - founder of the London Art School which is widely recognised as the beginnings of the Royal Academy.
Opening Times
Visitors are welcome from Monday to Thursday from 10.00 to 16.00 and Saturday, from 10.30 to 12.30. May to September. Other times by arrangement, please call 01622 843298
In case of alteration, please check prices, opening times and any specific important information before booking or visiting