Hotels in Rye, Sussex
---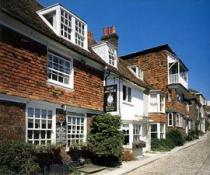 Hope Anchor Hotel
Restaurant and Bar
Watchbell Street
Rye
Sussex
TN31 7HA
Tel: +44(0)1797 222216
Email: click here
Hope Anchor Hotel
Restaurant and Bar online: information and bookings


The Hope Anchor is a mid 18th Century Hotel built at the end of one of the most delightful streets in Rye. The building originally would have housed a Smugglers gang thought to have been "The Tenterden", a nasty motley crew! Pistols at the ready and regular fights for territory with other local smugglers gangs including the infamous Hawkhurst, legend has it that on one occasion the Tenterden gang famously out gunned the Hawkhurst gang and they scurried hurriedly back to their watering hole! Most of the secret passage ways and escape routes are now blocked in but once here, it doesn't take a lot of imagination to realise what it was like in those dark and exciting days!THE ROOMS
Each bedroom has been individually styled and furnished to a very high standard. Every room has a direct dial telephone, clock radio, flat screen colour TV, hair dryer and hot drinks tray, plus a few little niceties that usually meet with guests' approval. Our Lounge, Bar, Restaurant and most of our bedrooms have WIFI connection for the internet. Extra blankets are available in each room.
Single occupancy of double rooms is from £65 bed and breakfast excluding weekends.
We welcome children of any age and supply travel cots if requested, we also offer high chairs if required for our restaurant and baby listening devices.
We serve breakfast in our restaurant between 8:30 and 10:30am during the week (between 9 and 10:30am on the
Restaurant
The Hope Anchor has a bar which is quietly popular among locals. There is also the Log Lounge with a lovely fire to greet you on your arrival or after a brisk walk across the Marsh. Lunch is served in the Log Lounge, the Outlook or, The Harbour View Restaurant. Bar snacks are served in the bar.
We offer a full house menu including daily specials and catch of the day.
All the menus change regularly but you can be assured of the finest ingredients and the finest service at all times.
Further Information
HIDDEN TREASURE COTTAGE
200 year old Fisherman's Cottage attached to Hotel with courtyard garden, small lounge, double bedroom with bathroom - sleeps 2/4
In case of alteration, please check prices, opening times and any specific important information before booking or visiting
Go Back to Sussex?
More Hotels in Sussex?
Places to Visit near Hope Anchor Hotel
Restaurant and Bar
Great Dixter House & Gardens
, Rye
Rye Heritage Centre
, Rye
Rye Castle Museum
, Rye
Webbes At The Fish Cafe
, Rye
Mermaid Inn
, Rye