Places to Visit in East Grinstead, Sussex
---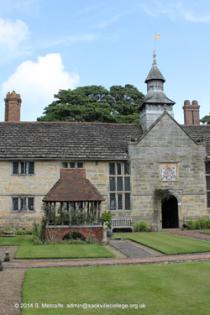 Sackville College
High Street
East Grinstead
Sussex
RH19 3BX
Tel: +44(0)1342 323414
Map
Email: click here
Sackville College online: information and bookings


Visitors to Sackville College are immersed in 400 years of history.
The College's connection with the Sackville family goes back to the year 1609 and the will of Robert Sackville, 2nd Earl of Dorset. This provided a sum of money with which to buy land and 'build a convenient house of brick and stone' to be used as an almshouse. For many years a wing of the College provided overnight accommodation for the Sackville family as they journeyed to and from their estates in Sussex.
Today the College Warden lives in part of the wing known as the Dorset Lodgings. However, the College's primary use has never altered: it still provides accommodation, now modernized and comfortable, for elderly people. They enjoy the seclusion of their own flats and the comfort of communal rooms behind the walls of a perfectly preserved quadrangle.
The College is a charitable foundation which operates according to an Act of Parliament of 1624 and a Royal Charter of 1631.
The College is built of Sussex sandstone around a quadrangle and contains large mullioned windows and four exquisite old doorways. The northern doorway has above it the Dorset coat of arms. The almshouse is a splendid example of Jacobean architecture.
The principle rooms are the Chapel with its original carved door and the Great Hall with its Minstrels' Gallery and a hammerbeam roof, the Common Room, and the Warden' Study, where 'Good King Wenceslas' was written by the Revd Dr John Mason Neale when he was Warden here.
Reg Charity 220488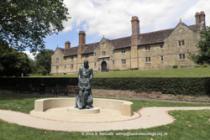 Weddings and Conferences
WEDDINGS IN EAST GRINSTEAD, SUSSEX
Sackville College is licensed for small church weddings.
Opening Times
Open to the public for guided tours
Mid June to mid September
Wednesdays to Sundays: 2.00 -5.00 pm.
(Last admission 4.15)
Admission £4 adults and £1 children Group visits welcome at other times by prior arrangement
In case of alteration, please check prices, opening times and any specific important information before booking or visiting
Felbridge Hotel
, East Grinstead
Saxons
, East Grinstead
The Cat Inn
, West Hoathly