Places to Visit in Braintree, Essex
---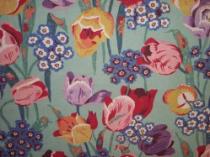 Warner Textile Archive, Braintree
Warners Mill Silks Way
Braintree
Essex
CM7 3GB
Tel: +44(0)1376 557803
Fax: +44(0)1376 327849
Email: click here
Warner Textile Archive, Braintree online: information and bookings


Located at Warner's Mill, Silks Way the Warner Textile Archive is of national importance but its roots are firmly here in Braintree.
The archive is a unique record of the history of textile manufacture and design since the 18th century. It includes every example of woven and printed fabric produced by the Warner company as well as examples produced by other companies.
Warner and Sons set up its business in Braintree at New Mills in 1895. Following a series of takeovers in the 1980s the company and its archive moved to Milton Keynes. In 2005 with the help of the Heritage Lottery Fund, other major charitable organisations and the generosity of individual donors the Braintree District Museum Trust, with the support of Braintree District Council, was able to return the archive to Braintree to the original site of New Mills. The site was renamed Warners Mill and given Grade 2 listed status.
The company's directors and designers travelled all over the world promoting Braintree and the fabric being designed and produced by local people. On their travels they collected fabric from around the world to use as inspiration for new designs. The company started buying up rival companies from the 1880s and added their designs and fabric to what eventually became the Warner Archive.
Also housed within the archive is an extensive collection of original artwork by leading designers and major artists who were commissioned by Warner to produce fabric designs for palaces, stately homes, liners, hotels as well as ordinary homes. Influential designers whose work is represented include: John Aldridge, Edward Bawden, Vanessa Bell, Walter Crane, Marion Dorn, James Fitton, William Folliott, Alec Hunter, Owen Jones, William Morris, Marianne Straub, A.W.N Pugin, Arthur Silver, Bruce Talbot and C.F.A Voysey.
The archive also includes documents and photographs relating to the history of Warner's business in Braintree. The archive's team is actively collecting information about the Mill and recording former employees' memories of working for the company.
In case of alteration, please check prices, opening times and any specific important information before booking or visiting
The Compass Inn
, Pattiswick
The George Inn
, Shalford
The Bull Inn
, Blackmore End
The Green Dragon
, Braintree