Places to Visit in Aylesbury, Buckinghamshire
---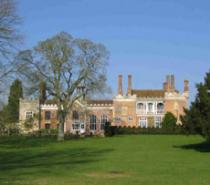 Nether Winchendon House
Aylesbury
Buckinghamshire
HP18 4JH
Tel: +44(0)1844 290199
Email: click here
Nether Winchendon House online: information and bookings


Breathtakingly romantic, Nether Winchendon House sits dreamily on lawns looking down to the River Thame. Approached down a tree-lined avenue leading through a screen of arches, this fabulous venue has a rare charm, quintessentially English. The house has passed by family descent since 1559. Weddings have been held in the grounds here since 1995.
Nether Winchendon House is a Medieval and Tudor manor house. 12th century Great Hall. 16th century Dining Room with fine carved oak frieze and oak linenfold panelling. Fine furniture and family portraits.
House altered in the late 18th century in the Strawberry Hill Gothick style. Interesting garden of seven acres; fine and rare trees and hedges, herbaceous borders and bulbs. Recent changes. Picturesque village and fine church, Church of St. Nicholas, Nether Winchendon.
Facilities
Historic House, Gardens, Tea Room, Picnic Area, Children, Car Park, Private Group Tours, School Tours Available

FILM LOCATION
We are an experienced location provider, accustomed to all the complexities and demands that filming entails. In Buckinghamshire, at Nether Winchendon House, we have ample space for a full base unit either on grass or hard standing. Filming is welcome both inside and outside the house. Nether Winchendon House is unique, offering many different styles and settings for filming and has an established track record for providing extremely versatile sets. In the grounds there is a tower with stone stairs leading up on the outside to the main doorway and stable yard with a large high vaulted barn, loose boxes, harness room and grooms loft. The fields on the farm include water meadows which flood annually, which is a magnificent sight. There are two bridges from the garden which span the River Thame, one wrought iron and one in stone.

'Forever Green' with John Alderton and Pauline Collins, 'Chef!' with Lenny Henry, 'Lovejoy' with Ian McShane, 'Class Act' with Joanna Lumley and Denis Waterman, 'Croupier' with Alex Kingston, 'Rebecca' with Charles Dance and Emilia Fox, 'James Bond: Tomorrow Never Dies' with Pierce Brosnan, 'Midsommer Murders' with John Nettles, 'Inspector Morse: Dead on Time' with John Thaw and Kevin Whately, 'Oliver' with Robert Linsey, 'The Way We Live Now', 'Miss Marple: Murder at the Vicarage', '12th Night' with Nigel Planer, 'The Unknown Soldier' with Gary Mavers, '12th Kingdom', 'Kavanagh Q.C.' with John Thaw, 'Uncle Silas' with Albert Finney, 'Tetley Tea' advert (not aired), 'Bridget Jones' Diary II: On the Edge of Reason' with Renée Zellweger and Colin Firth (in the deleted Christening scene), 'The Great British Wedding' and 'Stately Suppers' with James Martin and Alistair Appleton.

Weddings and Conferences
WEDDINGS
Breathtakingly romantic, Nether Winchendon House sits dreamily on lawns looking down to the River Thame.

Approached down a tree-lined avenue leading through a screen of arches, this fabulous venue has a rare charm, quintessentially English. The house has passed by family descent since 1559. Weddings have been held in the grounds here since 1995.

Nether Winchendon House is a Medieval and Tudor manor house. Great Hall. Dining Room with fine 16th century frieze, ceiling and linenfold paneling. Fine furniture and family portraits. Former home of Sir Frances Bernard, Bt. (d.1779), the last British Governor of Massachusetts Bay. Continuous family occupation since mid-16th century. House altered in the late 18th century in the Strawberry Hill Gothick style. Interesting garden of 5 acres; fine and rare trees and hedges, herbaceous borders and bulbs. Recent changes. Picturesque village and fine church.

Wedding receptions and parties can be held in a marquee in the grounds of the house or in our magnificent barn at the Stable yard. 

CONFERENCES
Nether Winchendon House is an ideal venue for you to arrange a corporate day for your company. We can liase with your chosen Events Agency to provide you with a day you will all remember. We have many venue options for corporate functions and it is best if we discuss these with you over the telephone as there are many different options for you to choose from.  

In case of alteration, please check prices, opening times and any specific important information before booking or visiting

The Pheasant Inn, Brill
The Crown, Cuddington
The Five Arrows Hotel, Waddesdon
Poletrees Farm, Aylesbury
Poletrees Farm, Brill