Wildlife in Exmoor, Somerset
---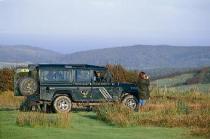 Exmoor Safari
Exmoor
Somerset
Tel: 01643 831229
Exmoor Safari online: information and bookings


xplore the natural magic of Exmoor for yourself on our nature safari. Let us introduce you to the very best that Exmoor has to offer. Our 2.5 hour safari gives you a flavour of the spectacular Exmoor National Park. Windswept moorland, rolling combes, steep wooded valleys and dramatic cliffs and coastline. Spot the elusive Red Deer, which roam free across open, moor land, buzzards, hares and hardy Exmoor ponies. A land for all seasons, Exmoor adorns herself in rich coloured heathers, bright sunny yellow gorse, punctuated by a myriad of greens and gold's.Rich copper beeches in autumn, silver birch, add diversity of colour.
Suitable for all ages, our 8 seater, County Land Rover, allows good viewing position for both young and old alike. Your driver will lead you through, this truly dramatic countryside, pointing out the history and background of Exmoor.
Fritillary butterflies, an abundance of flora and fauna. Rugged and untamed hillsides contrast with sheltered valleys of ancient broad-leafed trees. Explore secluded tracks and lanes, which ribbon through the Exmoor Forest.
Remember to pack your camera for that extra special photographic opportunity. Who knows you may even capture the infamous Exmoor Beast on film. Trips scheduled for morning, afternoon and evenings.
Departs from The Exmoor White Horse Inn.
To Book for this unique trip Telephone: 01643 831229 or 01643 8311112. Advance booking is advisable. Groups larger than 8 catered for by prior arrangement.
In case of alteration, please check prices, opening times and any specific important information before booking or visiting